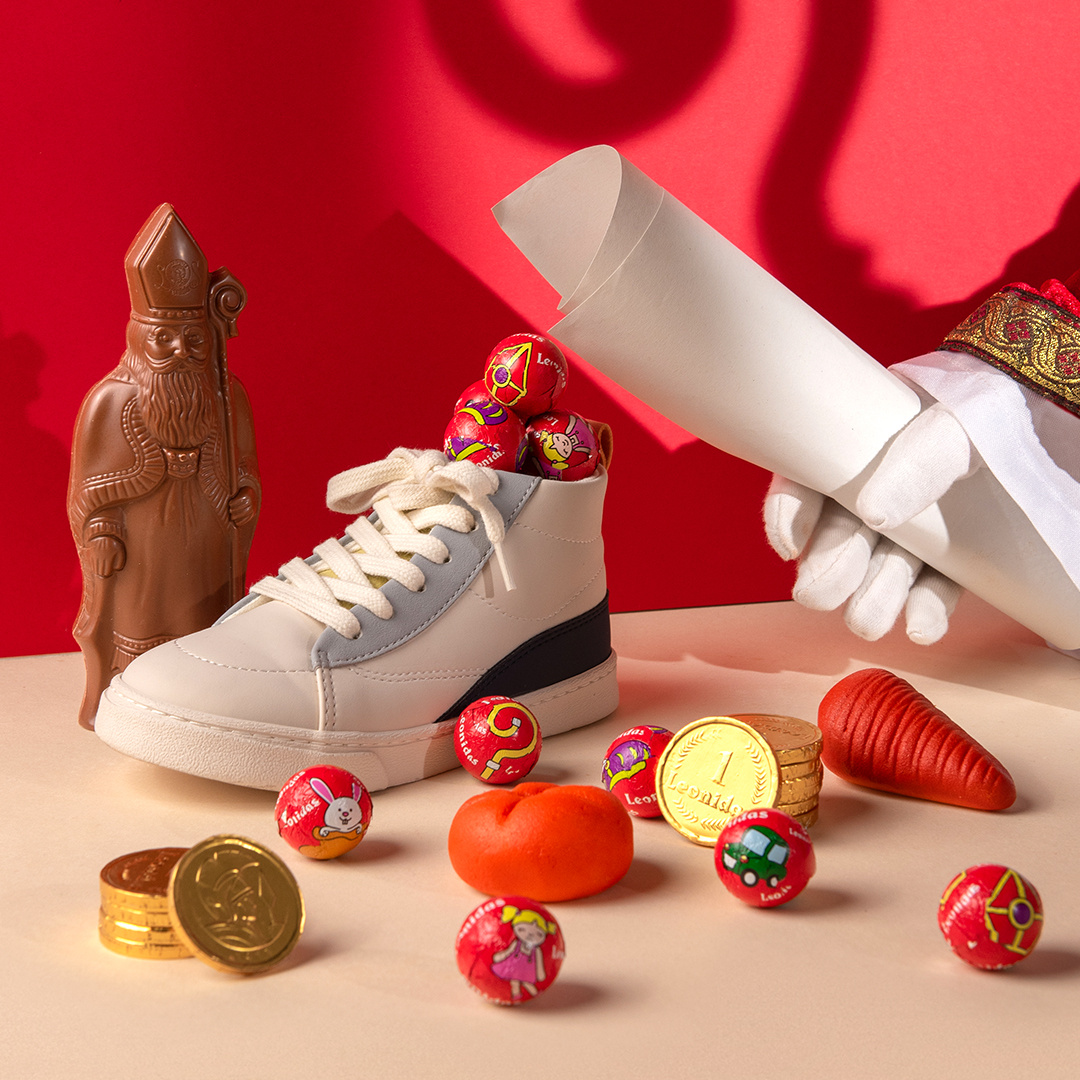 Get out your shoes, St Nicholas is coming!
At Leonidas, the days are counted down in sweets

Figurines, chocolate coins or balls - Leonidas has thought of every child, young and old, good or not so good. A countdown of delights to make waiting all the sweeter. 
Taste the great quality of Leonidas chocolates, without palm oil but with the great taste of Belgian chocolate. 
As tradition would have it, count down the days before Christmas with our fabulous Advent calendar, filled with delicious chocolates. 
New this year: for even more delight, we are also offering you an Advent calendar "specially for young chocolate-lovers".
St Nicholas chocolate balls

They're back! Our St Nicholas chocolate balls with fun designs that you can slide discretely into the kids' shoes before the "Big Day". 
This year, our Master Chocolatiers completed our collection with 2 new chocolate balls: the vanilla chocolate ball and the Caramel-flavoured praliné ball.
Do not wait any longer to discover our various chocolate balls... A different flavour for everyone, to provide even more surprises. 
St Nicholas ball vanilla milk
Milk chocolate, vanilla-flavoured cream
St Nicholas ball praliné white
White chocolate, caramel-flavoured praliné
St Nicholas ball praliné puffed rice white
White chocolate, praliné, puffed rice
St Nicholas ball salted caramel milk
Milk chocolate, salted caramel
St Nicholas ball hazelnuts paste milk
Milk chocolate, hazelnuts paste
St Nicholas ball biscuit praliné milk
Milk chocolate, biscuit praliné
St Nicholas ball sparkling praliné milk
Milk chocolate, sparkling praliné
St Nicholas ball praliné dark
Dark chocolate, praliné

Welcome to the world of hollow figurines for St Nicholas! These little marvels are emblematic of this popular holiday. Are you looking for something small to give as a gift, or something a bit larger to decorate your holiday table? No worries, we have everything you need. And the choice of chocolates is simply incredible! Dark, white, blond or milk chocolate, there's something for everyone. So, what are you waiting for? You'll love them! 

A feast of St Nicholas without chocolate coins? Unthinkable! 
Money (or gold) may not be the secret to happiness, but the Leonidas' gold coins may well come close. Discover our gold coins for your treasure hunts, but above all to taste top quality delicious Belgian milk chocolate. 
Count down until Christmas with our advent calenders!

Christmas is fast approaching. 
What can be harder than to wait for the arrival of Santa Claus! To help children wait patiently for the magical moment, offer them the Advent calendar "specially for little chocolate lovers" to count down the days. A chocolatey treat for every day, culminating in a nice surprise in the square for the 24th!