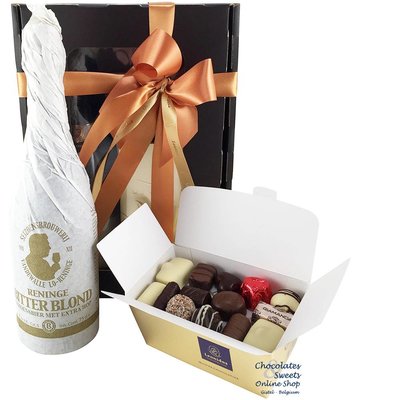 500g Leonidas Chocolates and Handcrafted beer
Stylish gift box with chocolates and a bottle of handcrafted Belgian beer 75cl.
More information
---
---
Reninge Bitter Blond (blond) is a high fermentation beer with a positive taste evolution because of the refermentation in the bottle. This handcrafted beer is based on natural ingredients: water, barley malt, hop from Poperinge (40%) and live yeast. This beer is brewed using three different flavours of bitter hop and has an unmistakable fresh taste! Unfiltered and unpasteurised. 

Dimensions: 33,5 x 22,5 x 9 cm

Our chocolate is guaranteed 100% pure cocoa butter, 100% fresh and 100% Made in Belgium !

List of ingredients and allergens: click here

Add a greeting card with your personal message.

For our shipping rates, countries, delivery times and discounts: click here

From 25° we add a 'cold-pack' to the parcel to keep the products fresh and cool during transport.